Doorndraai Dam
Doorndraai Dam Map - Limpopo
24°16′45″S - 28°46′1″E




About the dam.
Doorndraai Dam was built in 1952 and then renovated later on in 1974. The dam has a capacity of 46,500,000 cubic meters of water and a Surface area of 560.6 hectares.
Doorndraai dam is situated about 20km outside the town of Mokopane (Potgietersrus) in the Limpopo province in the heart of the bushveld. The dam is currently operated by the Department of Water Affairs and Forestry.
This dam doesn't only offer beautiful bushveld surroundings but also a wide variety of fish species, especially in the summer, making this dam a fishing paradise.
Doorndraai dam receives its water from the Sterk River.
Oor die dam.
Doorndraai Dam is in 1952 gebou en in 1974 gerestoreer. Doorndraai dam het 'n kapasiteit van 46,500,000 kubieke meter en 'n oppervlakte van 560.6 hektaar.
Doorndraai dam is geleë sowat 20km buite Mokopane (Potgietersrus) in die Limpopo provinsie binne in die hartjie van die bosveld. Die dam word tans beheer deur die Departement van Waterwese en Bosbou.
Hierdie dam bied nie net natuurkone bosveld met skaduryke bome nie, dit bied ook 'n verskeidenheid van visspesie aan die hengelaar, veral in die somer maande, wat hierdie dam 'n hengelparadys maak.
Doorndraai dam word deur die Sterk Rivier gevoed.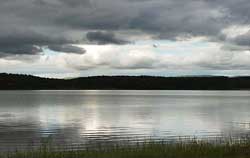 Doorndraai Dam Fishing Tips, Spots & Fishing Bait.
Carp Bait: Mealie (maize) Pips, Maples and Tiger Nuts.

Flavors: In general plain flavors are the way to go.

Groundbait: Use a particle mixture of pre-cooked hemp, mini tiger nuts and kaboem.


Yellow Fish Bait: Mealies, earthworms and "pap".


Barbel / Catfish Bait: Platannas and Earthworms.

Blood Groundbait: For more information read here


Blue Curpers: Earthworms and Brown Bread mixed with Maroek.

Groundbait: Maroek is the preferred option to use.


Black Bass: Almost any red colored lures such as flukes and lizards have produced good result. Spinners also work very well at this dam.

Where can the Specimen Angler buy baits for Doorndraai Dam?
Specimen anglers can buy their bait for the Doorndraai Dam at this web-page.
Where can the Recreational (Papgooi) Angler buy baits for Doorndraai Dam?
Recreational (Papgooi) baits for Doorndraai Dam is can be bought here.
Where can Barbel (Catfish) anglers buy blood & bait for Doorndraai Dam?
Barbel (Catfish) blood & bait for Doorndraai Dam is available at this web site.
Where can Bass anglers go to buy their artificial lures?
Bass anglers can find a big range of artificial lures at this online store.
Doorndraai Dam Visvang Tips & Aas.
Karp Aas: Tiger Nuts, Maples en Mielies.

Geure: Plein geure is die beste om hier te gebruik.

Grondvoer: Gebruik 'n gekookte mengsel van Hemp, klein (Mini) Tiger Nuts en Mielies.


Geelvis Aas: Mielies, pap of erdwurms .


Baber Aas: Platannas en Erdwurms.

Bloed Lokvoer: Vir meer inligting lees hier.


Blou Kurpers: Erdwurms en bruinbrood met maroek gemeng.

Grondvoer: Maroek is die beste opsie.


Swartbaars: Amper enige rooi gekleurde kunsaas soos bv flukes en lizzards werk die beste by die dam. Swaailemme lewer ook goeie resultate op.
Waar kan spesie hengelaars aas koop vir Doorndraai Dam?
Spesie hengel aas vir Doorndraai Dam is beskikbaar by hierdie web blad.
Waar kan papgooi hengelaars aas koop vir Doorndraai Dam?
Papgooi hengels kan aas koop vir Doorndraai Dam by hierdie web-werf.
Waar kan Baber hengelaars vleisaas & bloed lokvoer koop vir Doorndraai Dam?
Baber aas & bloed lokvoer vir Doorndraai Dam is te koop hier.
Waar word kuns aas verkoop vir die swart baar hengelaars?
'n Groot reeks kuns aas vir swart baar hengelaarskry word verkoop by die web-werf winkel.
A detailed contour map of Doorndraai Dam is available here.
If you require more carp fishing advice please follow this link or if you would like to obtain carp fishing tackle click here.