Tzaneen Dam
(Fanie Botha Dam)
Tzaneen Dam Map - Limpopo
23°47′37″S - 30°9′48″E




About the dam.
Tzaneen Dam was built in 1976. The dam was originally created to supply the farmers of irrigation water. The dam has a capacity of 157,291,000 cubic meters of water and a Surface area of 1,163.6 hectares.
Tzaneen dam is situated about 8km from Tzaneen in the Limpopo province. Even though the dam is man made it melts in so perfectly with the surroundings that you would think that it is a natural lake.
The dam is run by the Department of Water Affairs and is situated in a beautiful part of the world making it possible for both the angler and his family to truly enjoy everything that nature has to offer.
Tzaneen dam receives its water from both the Groot Letaba and the Ramadiepa rivers.
Oor die dam.
Tzaneen Dam is in 1976 gebou. Die dam was oorspronklik gebou om die boere van besproeiings water te voorsien. Tzaneen dam het 'n kapasiteit van 157,291,000 kubieke meter en 'n oppervlakte van 1,163.6 hektaar.
DIe dam is ongeveer 8 km vanaf Tzaneen geleë in die Limpopo Provinsie. Alhoewel Tzaneen dam mensgemaak is, smelt dit so goed met die natuur saam dat daar gedink kan word dat dit 'n natuurlike meer is.
Die dam is onder die beheer van die Departement van Waterwese en is in 'n pragtige natuurskone gebied geleë wat dit moontlik maak vir die hengelaar en sy gesin om alles wat die natuur bied te geniet.
Tzaneen dam word deur die Groot Letaba en die Ramadiepa riviere gevoed.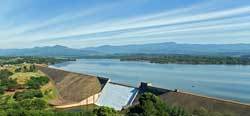 Tzaneen Dam Fishing Tips, Spots & Fishing Bait.
Carp Bait: If you are at Tzaneen Dam carp fishing you should use yellow mealie (maize) Pips, white maize and Tiger Nuts to get the best results.

Flavors: Go as plain as possible. If you do want to use a flavor go tiger nut or sweetcorn.

Groundbait: Use a particle mixture of pre-cooked hemp, mini tiger nuts and kaboem. Crush them up a bit to release more flavor into the water.

Fishing Tip: This dam has a LOT of snags so always make sure that you have a boat or canoe ready to go after the carp. Use a fishfinder to find the underwater structures where the carp are hiding. There use to be old roads, buildings and trees where the dam is now so there is a lot of good places to find carp.


Yellow Fish Bait: Mealies and earthworms.


Barbel / Catfish Bait: Platannas and Earthworms.

Blood Groundbait: For more information read here


Curpers: Earthworms and Brown Bread mixed with Maroek.

Groundbait: Use Maroek at Tzaneen.


Black Bass: Flukes in a Watermelon & watermelon candy color with a slightly spiked tail if you can find them. Spinner bait are also a great option in Plain White or White & Chartruese. Next you can try Brushogs/Lizards in either a watermelon candy or a green pumpkin color also with the spiked tail. If you are a fan of Jigs then you can have a go at a black and blue colored one. Trick worms in junebug, green pumpkin or pink also deliver great results.

Fishing Tip: In the mornings fish using topwaters and spinner baits in the shallows. Also use top water lures when there is cloud cover. When the sun is up the bass start moving in deeper, depending on the weather that day the bass will be between 6ft to 25ft deep.
There are crocodiles and hippos in this dam so please don't swim in the shallow waters and keep a look out at night, especially at the side of the dam. Remember in Africa hippos have the right of way.... always.
Where can Specimen Anglers buy bait for Tzaneen Dam?
Specimen anglers can buy all their carp baits for Tzaneen Dam at this site.
Where can Recreational (Papgooi) Anglers buy bait for Tzaneen Dam?
Recreational (Papgooi) anglers can purchase their carp bait for Tzaneen Dam at this webpage.
Where can the Barbel (Catfish) angler buy some blood & bait for Tzaneen Dam?
Barbel (Catfish) fisherman can buy their blood & bait for Tzaneen Dam at this web store.
Where can Bass anglers go to buy their artificial lures?
Bass anglers can find a big range of artificial lures at this online store.
Tzaneen Dam Visvang Tips & Aas.
Karp Aas: Tiger Nuts, Geel Mielies en wit Mielies.

Geure: Plein geure is die geure om te gebruik maar as jy verkies om geur te gebruik gaan dan tiger nut of sweetcorn toe.

Grondvoer: Gebruik Hemp, klein (Mini) Tiger Nuts en Mielies wat alles saam gekook is. "Crush" die mengsel bietjie om meer geur in die water te sit

Karp Tip: Die dam het baie "snags" so hou maar altyd jou boot of kanoe naby om die vis te gaan haal. Gebruik 'n "fishfinder" om die strukture te kry waar die karp is. Daar was altyd ou geboue, paaie en landerye waar die dam nou is so daar sal baie goeie plekke wees om die karp op te spoor.


Geelvis Aas: Mielies en erdwurms .


Baber Aas: Platannas en Erdwurms.

Bloed Lokvoer: Vir meer inligting lees hier.


Kurpers: Erdwurms en bruinbrood met maroek gemeng.

Grondvoer: Gebruik gerus Maroek by Tzaneen.


Swartbaars: Gebruik Flukes in 'n Watermelon & watermelon candy kleur met 'n gesplete stert as jy kan kry. Swaailemme is ook 'n goeie keuse in Plein Wit of Wit en Chartruese. Volgende kan jy Brushogs/Lizards probeer in of watermelon candy of green pumpkin kleure ook met die gesplete stert. As jy daarvan hou om met Jigs te vang dan moet jy ene probeer in swart en blou. "Trick worms" in junebug, green pumpkin of pienk lewer ook baie goeie resultate.

Visvang Tip: In die oggende hengel met "topwater baits" of met swaailemme in die vlakker waters. Gebruik "top water" kunsaas die dae wat dit bewolk is ook. Sodra die son op kom sal die swartbaars begin dieper beweeg en af hangende van die weer die dag kan hulle gevind word op dieptes van tussen 6ft en 25ft.
Daar is krokodille en seekoeie in die dam so moet asb nie in die vlak water swem nie en hou 'n oog uit tydens die aand, veral naby die kant van die dam. Onthou in Afrika het seekoeie reg van voorgang.... altyd.
Waar kan spesie hengelaars aas koop vir Tzaneen Dam?
Spesie hengel aas vir Tzaneen Dam is beskikbaar by hierdie web blad.
Waar kan papgooi hengelaars aas koop vir Tzaneen Dam?
Papgooi hengels kan aas koop vir Tzaneen Dam by hierdie web-werf.
Waar kan Baber hengelaars vleisaas & bloed lokvoer koop vir Tzaneen Dam?
Baber aas & bloed lokvoer vir Tzaneen Dam is te koop hier.
Waar kan die swart baar hengelaars kuns aas koop?
Swart baar hengelaars kan 'n groot reeks kuns aas kry by die internet winkel.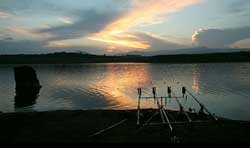 If you require more carp fishing advice please follow this link or if you would like to obtain carp fishing tackle click here.